Seattle's perfect combination of nature and city life makes it the best of both worlds for just about anyone. It also makes it easy for out-of-state college students to fall in love with the culture. From the nightlife to the historical side, Seattle has something for every college student during the back-to-school season.
The First Ever Starbucks
If you're like the rest of the college students out there, coffee is a severe lifeline when it comes to your lifestyle. Why not see where it all started? Seattle is home to the birth of Starbucks. Located at 1912 Pike Place and known as the "original Starbucks", this Starbucks started it all. The line stretches out the door and around the corner of this surprisingly small coffee shop, just about every day. However, people are there for more than the coffee, making it worth the wait. If the coffee girl aesthetic is your go-to, this is definitely the place for you.
Neko Cat Cafe
If Starbucks isn't your cup of tea, or you're starting to miss those furry friends back home while away at college, we have the place for you. From drinks to treats, Neko Cat Cafe has it all. A $20 admissions fee will get you 45 minutes to stretch out and relax with a dozen cats! Food and drinks are up for sale as well once inside.
Their locations are in Seattle and in Bellingham. Reservations are highly suggested, and there's even an option to rent a private room with the purr babies if your college budget allows it. Every cat is up for adoption as well, so not only do you get to de-stress, you get to help a cat in need. It's every cat lover's dream.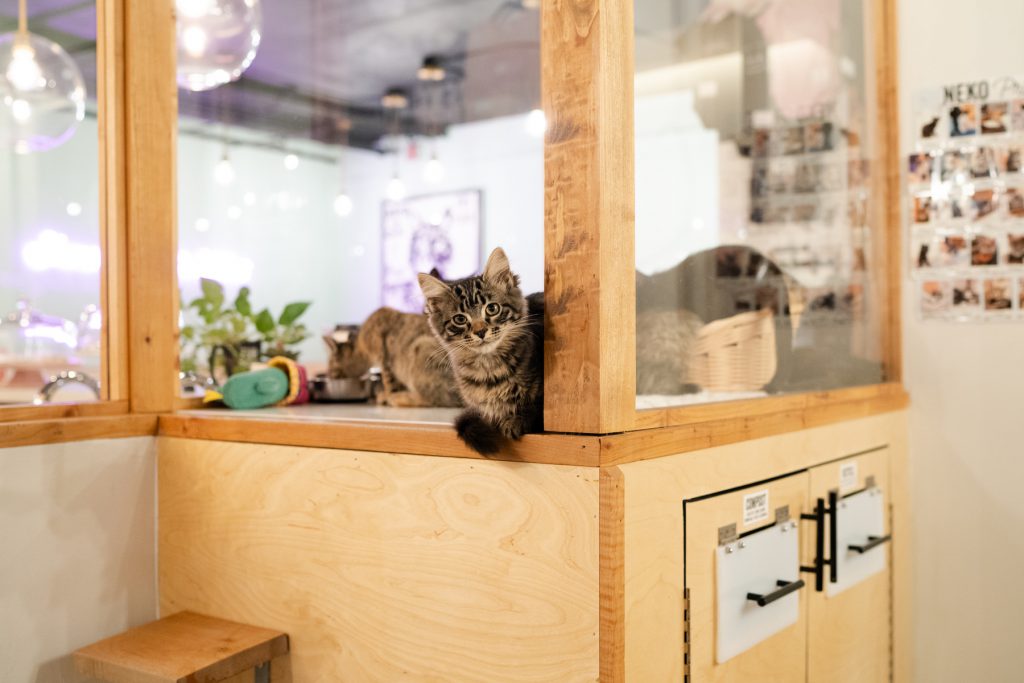 Space Needle
Now, this is one of the more no-brainer sites to see, but you cannot have the full Seattle experience without the Space Needle. With tilting glass benches, glass floors at the top, and so much more, the Space Needle allows you to really see Seattle in all its beauty as a whole.
It is, however, on the pricier side, with tickets starting at almost $40 for students, just general admission. All that means though is just skipping the daily coffee run for a few days and you'll have enough to pay for a view just as amazing as those coffees you missed. It is open daily from 9 am to 11 pm. Perfect for experiencing Seattle's glow from all angles.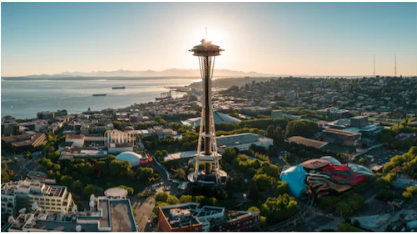 Pike Place Market
Pike Place Market is located over nine acres across downtown Seattle. At its location, there is food, Live Music, and so much more available. Come to watch the captivating line fish toss from one end of the market to the other. Why not take a picture with the pigs and piglets statues? Or shop to your heart's content at the farmer's stands. Everyone from locally owned boutiques to businesses, there's at least something for everyone of all ages. The best part? It only costs as much as you want to spend! Here are some of our favorite pitstops at the market:
The Gum Wall – It's exactly how it sounds- a wall covered in gum. It started in the 90s when artists waiting to enter Unexpected Productions would spit their gum out and stick it on the brick. Eventually, people passing by added to it, and it's only grown from there. Snap a pic of you putting your gum up there, and it will definitely pique your friends' curiosity.

Old Fashioned Candy Store – This candy store offers the largest display of candy and treats in the market, originating all the way back to the 50s. Swing by and take a trip through time with sweet treats.

Giant Shoe Museum – This quick little side stop offers a view of the shoe collection of Danny Eskenazi. It works sort of like a telescope machine at a park, with the view being a size 37! Imagine trying to buy that at the Nike store.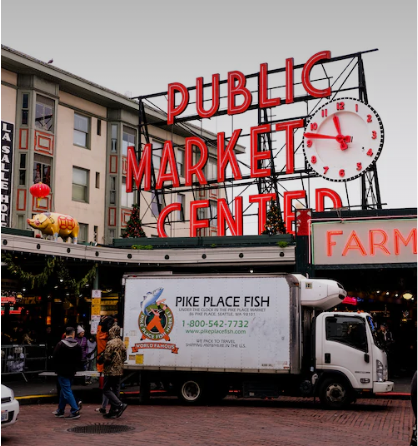 Seattle Art Museum
Art Museums are for everyone, whether you know what year Picasso painted "The Weeping Woman" or not. The Seattle Art Museum is home to beautiful, priceless art of all mediums. College students receive a discounted general admissions rate of $13 a person, with proof of I.D. If you end up feeling like a big spender and want to earn access to whatever special exhibit is showing at that time, it only costs $3 more to get in. Their hours are Wednesday through Sunday from 10 am to 5 pm. Make your art professors proud and enjoy the history before your eyes.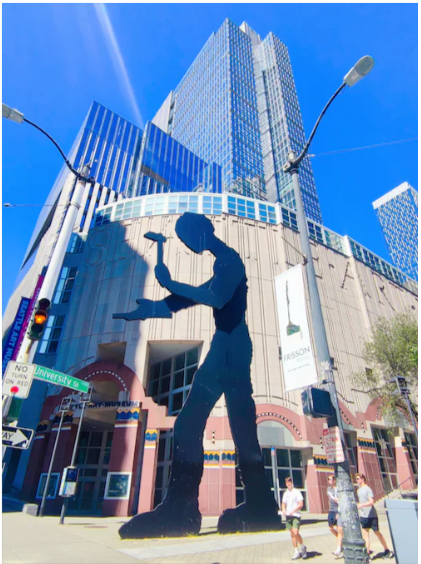 Seattle Great Wheel
Sometimes nothing is better than sticking with the classics. Seattle is home to the tallest Ferris wheel on the west coast. Take a ride to the top of the world right out on the edge of Pier 57. Grab a bite to eat, take a tour of the waters, and end your night on the Seattle Great Wheel. Student tickets cost $17 a person purchased online and can be used anytime up to a year after purchasing.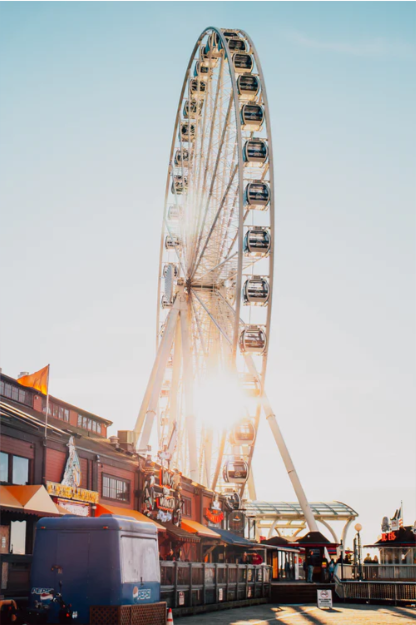 Seattle Japanese Garden
If you're like the rest of us, sometimes a break from the busy life is needed. What better place to get away from the city without going too far than the Seattle Japanese Garden. They offer garden tours, or you can be self-guided and follow a brochure. With a $4 entry fee for students or a $20 annual pass, it's an affordable escape along with a beautiful change of scenery.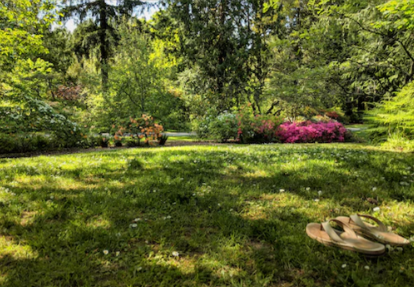 Parks
Parks are always a great escape for college students. They are great for picnics with friends, peaceful outdoor studying, whatever you can imagine. Seattle may be a busy city, but there is no shortage of parks here! Below we list two of our favorite places for college students. Bonus points, almost all parks are completely FREE!
Gas Works Park – The site of the old Seattle Gas Light Company gasification plant that has now been turned into a children's park. Some of the structures have even been turned into play places. There's a hill for flying kites and the park's location allows for a beautiful view of the city. Don't swim in the water though! It still holds contaminants, which adds to the idea of this park being one of the oddest parks in the world.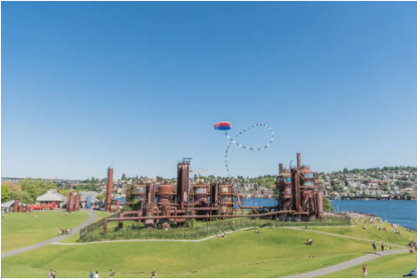 Kerry Park – Another spot with a great city view! The foot traffic here may be heavier than in other parks because of its scenery. However, if a student likes their pictures of the sunsets, then this is the place to be.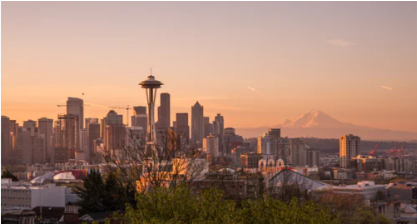 Bill Speidel's Underground Tour
The Seattle we all see today had to start somewhere, right? Did you know, that the history of the city lies everywhere around you? Seattle was rebuilt on top of itself after a huge fire in 1889. Bill Speidel's Underground tour takes you from Doc Maynard's place through Pioneer Square, and underground to experience the history buried beneath you in Seattle.
It is a walking tour, lasting about 75 minutes, so dress accordingly. Tours run from 10 am to 6 pm daily. Tickets for students are discounted to about $17.50 a person and can sell out, so be sure to buy your tickets ahead of time to ensure the spot is yours.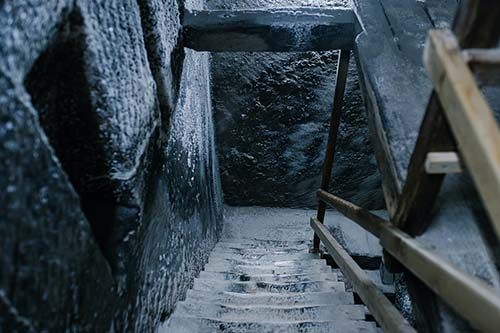 Smith Tower
A great way to get your city fixed all at once would be the Smith Tower. At around $20 a person, it may be on the higher end for some students, but the view at the top is worth it. Smith Tower was the first skyscraper to be built in Seattle and at one point was the tallest building west of Missippi. The building features a beautiful view of the city at the top and is full of history throughout. Experience Seattle all in one stop with Smith Tower. Plus, locals receive a 20% discount!
College is the time to get out there and learn who you want to be in life. Why spend it worrying about the little things?
If you're moving to college in Seattle or are already here, trust Collegeboxes to lend a helping hand while you head to school with our Direct Shipping and Ship to School programs so you can get out there and try new things!