Ever wonder how Collegeboxes moves thousands of students to school with our Ship to School program? Wonder no longer as we provide an in-depth look at how it all works!
Where to Begin
To start, an account is created on Collegeboxes.com, and shipping supplies are ordered. Supplies are sent from the Collegeboxes distribution center in Kansas City to your address via FedEx about two weeks prior to your pickup date.
Once supplies are received, it's time to start packing. Packing can be overwhelming! We recommend only packing your college living necessities and doing it slowly over time. Once packed, return to your Collegeboxes account and create shipping labels. All labels will have the address for our facility near campus on them and a unique tracking barcode which will be used later to track your packages so nothing gets lost.
What to Expect on Pick Up Day
On your scheduled FedEx pick-up day, FedEx can arrive anytime between 10 AM and 6 PM. You are welcome to leave packages outside their front door for FedEx to pick up, or if preferred, boxes can be dropped off at any local FedEx office that accepts ground packages.
Once packages are in transit, their journey can be tracked right through your Collegeboxes account. When packages arrive at the local U-Haul center near campus they are sorted, scanned, and placed in a secure storage unit where they are held until delivery to campus.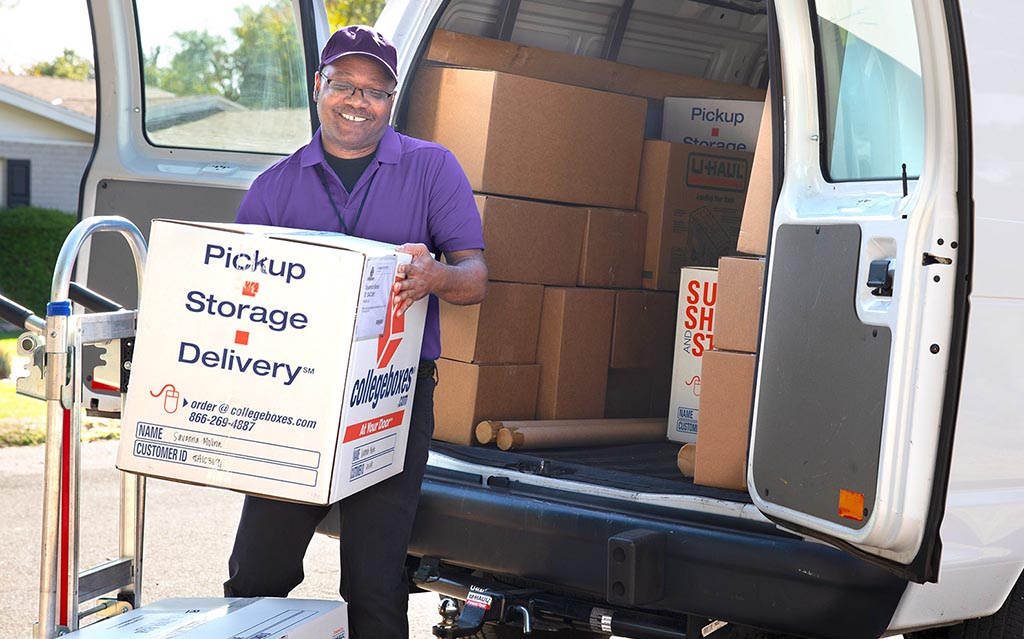 Pro-Tip: Don't ship on the last date allowed (the ship by deadline) this will give you some wiggle room should you miss your FedEx pick-up or forget to pack something.
What to Expect on Delivery Day
Packages are carefully loaded onto the Collegeboxes delivery truck and transported to campus. Our team will contact you via call or text message to let you know what time to expect delivery.
When our team arrives, you will simply need to escort them into your building, and they will bring your belongings right to your room. Within minutes, you will be all moved in and can start decorating your dorm and enjoying time with your roommates.
Pro-Tip: Unfold and flatten your Collegeboxes and stow them under a bed or in a closet to be reused for move-out.
We are Here to Help
Collegeboxes and our team of specialists is ready to answer any more of your questions. Please feel free to contact us via phone, email, or chat.
Have a wonderful school year and remember that we also help with move-out, so go ahead and focus on your finals and your last couple of days with your friends at school instead of worrying how you're going to get items home or stored locally. We will come and pick them up for you. Sign up, pack up, and our Storage and Shipping service will do the rest! If you need to ship anything throughout the school year, our Direct Shipping service is available whenever you need to ship items.