Collegeboxes is the leading student storage and shipping service for a reason; and that's because we're flexible. We can hold your belongings for as long as you need, deliver them wherever they need to go, and we can even send them directly to you at school.
But many students actually prefer picking up their belongings themselves. Other dorm movers don't provide the option to access your items after they pick it up. But at Collegeboxes, you're in control of your items completely. So, no matter what your situation is, we're here to make move-in as easy as possible.
What is Self-Pickup?
When a student uses Collegeboxes, we take their items and store them at a U-Haul location near campus. This means your belongings are kept safe and securely protected, but you can access them whenever you need. We'll just need a little heads-up so we can get everything ready for pickup!
Our self-pickup method is a preferred option for folks who want to skip our delivery services. It's a great way to save some money and have the opportunity to experience college move-in day in a more traditional way.
How Do I Use the Self Pickup Option?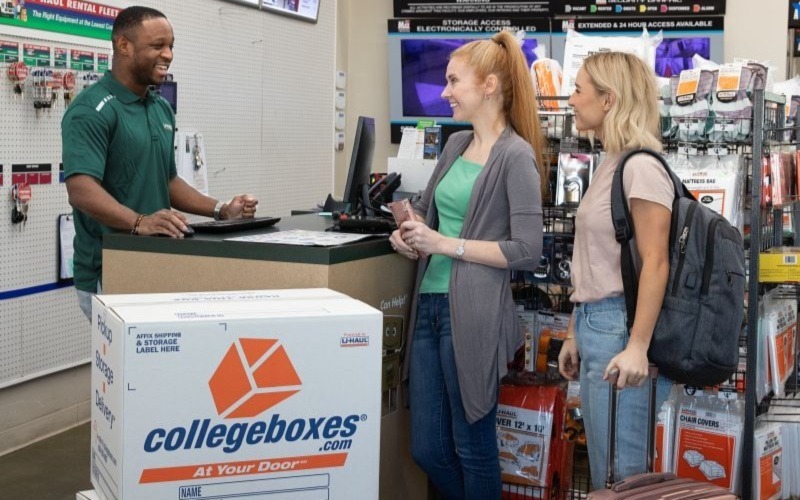 Using your Collegeboxes account, let us know you're choosing the self-pickup option (Give us 72 hours to get your order ready).


On the day of your scheduled pickup, swing by the U-Haul Center. We'll pull your items out of storage and have them ready for you.


Pack up your car and head over to campus!
When Should I Use Self Pickup?
Delivery is convenient, but sometimes it just makes more sense to do it yourself instead. For many students, the U-Haul Center their belongings are held at is on the way to campus. In cases like this, it might be better to swing by to pick up your stuff and then head to school. But there are some other reasons why self-pickup might be the best option for you.
If You're Looking to Save
It's also no secret that moving to college isn't cheap. Especially when you're trying to get everything done within a certain budget and need a special delivery (delivery on a date that falls outside of our free delivery dates).
In instances like this, cutting special delivery costs can be beneficial. If you don't mind a little extra work, self-pickup can be a great money-saving option.
If You Need Storage
Self-pickup is also good for students who want to take advantage of our storage options. We can store your things as long as you like; and you're always welcome to swing by and pick them up when you need them. This is a great option for students who plan to study abroad, or even if they recently moved into an off-campus apartment!
You'll also love self-pickup if you're going home for the summer. When you have bulkier items like a mini fridge, bike, or television, it can be super annoying to try and bring them with you. Why not just store them near campus instead?
No matter what you need help with, we're here to work with you. Whether it be storage, shipping to school, or direct shipping, we have a moving option that fits your needs. Moving to college is already hard enough already, so let us iron out all the fine details.