Your move-out day checklist is packed with tasks to complete. However, there's one crucial item that many students tend to overlook: defrosting their mini fridge. Failing to defrost your mini fridge can make move-in day more challenging and messy for everyone involved, including your Collegeboxes movers.
But fear not! You can easily avoid messy mishaps by defrosting your mini fridge well ahead of time. And the best part? It doesn't take long, and it's much easier than you might think. So, let's dive into this guide and learn how to defrost a mini fridge quickly and effortlessly.
How to Defrost a Mini Fridge in 5 Steps
Typically, you only have to defrost your mini fridge twice a year – before winter break and when you're getting ready to move out for the summer. So, make sure you plan ahead! It's best to begin the defrosting process 24-48 hours before your move-out day.
1. Preparation
To start defrosting your mini fridge, simply unplug your refrigerator.
2. Empty the Contents
The next step is to empty your fridge. If you're keeping anything that's in there, make sure you have a cooler on hand to guarantee it doesn't spoil. Take everything out of the mini fridge. If it's perishable and likely to go bad, such as milk or vegetables, throw it away. Be sure to check the freezer portion of your fridge if you have one because melted ice cream isn't fun to clean up.
Even if you don't defrost your fridge before winter break, you should still remove everything. There are too many horror stories of students returning from break to a disgusting smell of rotten food.
3. Open the Door
Now that all the food is removed, prop the door open. This allows the room temperature to help defrost the fridge and loosen up any excess ice. Also, we suggest placing a towel in front of the fridge with the door open to absorb the water draining from your fridge. Leave the door open overnight until it's completely defrosted.
4. Accelerate the Process
If your fridge is having trouble defrosting or chunks of excess ice won't come off, here are a few tips to make the process go faster:
Put a warm bowl of water in the fridge. The steam will help raise the temperature in the fridge.
Wipe the excess ice with a warm rag to help it melt quicker.
Use a plastic spatula to break the ice off. Don't use a screwdriver to wedge the ice out because it can damage the inside of the fridge.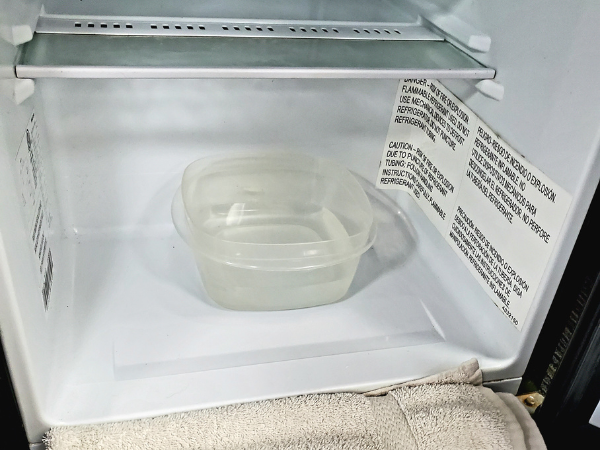 5. Clean the Fridge
As the fridge is defrosting, it's a great time to remove the shelves and give them a quick clean. Baking soda or distilled vinegar can help get any tough build-up from food or drinks off the fridge. Wipe down the inside of the fridge once it's defrosted to absorb any leftover moisture and then when you come back to it, it'll be like brand new.
How Long Does It Take to Defrost a Mini Fridge?
A mini fridge can be defrosted in several hours or less if you follow the steps properly. To make the process go by quicker, defrost on a warm day. You can move the fridge outdoors if you have the space, or keep the room warm if you want to leave it inside.
What Happens if You Don't Defrost a Mini Fridge?
If you move your mini fridge without defrosting it first, all that ice will eventually melt! Although that might not be the worst thing in the world, it'll create a big mess, either in your dorm room, storage unit, or elsewhere.
Convenient Mini Fridge Storage From Collegeboxes
Now your mini fridge is ready for storage. If the thought of hauling your mini fridge to a storage unit doesn't sound appealing, don't stress it. Collegeboxes movers are here to do the heavy lifting. Our Storage and Shipping service is perfect for students who need to store some items over summer or winter break.
Now the fridge is ready to go to storage for summer. Don't worry, you don't need to lift it to get it there, let us at Collegeboxes do the heavy lifting. Storage and Shipping is one of our most popular services. There's no need to load a car with boxes, check bags at the airport, and haul belongings to and from campus. Ship what you want, store what you want. We store your belongings at a clean, dry, and secure U-Haul storage facility that you can access at any time. Because Collegeboxes is a division of U-Haul, students benefit from U-Haul's network of more than 1,500 storage facilities across the United States.
Have other things that may need storage? Read our guide on What To Take Home and What To Store over summer break.
Collegeboxes serves over 350 schools, making us the No. 1 choice for Student Storage and Shipping. Sign up for Collegeboxes today!