As a freshman entering college, you may be too focused moving into your dorm to consider what happens the following days. You will actually have a few days of free time to explore the campus and attend various events the school hosts for first year students.
It can be overwhelming to move into school and immediately be left to your own devices. But luckily there are plenty of locations to explore and people to meet. Wondering what to do once you finish unpacking your last box Collegeboxes has you covered!
Still Need Help Moving to School? We Got You!
Participate in Welcome Activities
Even though you have about a week of free time between move-in and the first week of classes, your school will set up a bunch of activities to get involved in. You won't have to worry about feeling bored, that's for sure!
There are some events that you need to attend, like orientation. But for the most part, you have the option to pick and choose which festivities you want to participate in. Keep in mind this is an easy way to meet people, explore the campus, and even score some free food.
Many schools will offer events like:
Picnics and barbecues


Concerts, fairs, and carnivals

Various forms of entertainment


Convocation ceremonies (it's kind of like a welcome ceremony!)
Get to Know Your Dorm
You are going to be busy during your first year, but your dorm is going to act as a home base. Some dorms can come with kitchens, dining halls, study areas, and lounge areas. Or you may find that your dorm has certain quirks to work around, like communal bathrooms. Either way, it is good to know what you are walking into.
Depending on the amenities your dorm has, you may be able to cook your own meals, host study groups, and even build some community. Try to see what your residence building has to offer!

Explore the Campus
While attending events is a great way to experience some of what the campus has to offer, there is a whole lot more to see! When you get a free moment, try to walk around campus and familiarize yourself with your surroundings.
A great idea to try is walking through your class schedule. This gives you a low-stress way to see where your classes will be. It is also great for measuring how long it takes to walk between each class. If you have a full schedule with back-to-back classes, this is a necessity!
There are some other landmarks you should keep an eye out for:
The library


Fitness centers


Counseling services


Health centers or clinics

Tutoring centers


Student services and advisors


Dining halls


Don't Be Shy!
Now, you don't need to introduce yourself to everyone, but try to at least talk to a few people that seem cool! It's normal to feel shy but remember that you are going to be surrounded by other new people. You are all going to feel nervous and awkward, so it is an even playing field.
Try starting small, like by introducing yourself to your neighbors or other people on your floor. You have probably met your roommate already, so try to lean on them and attend some events together. You feel a little more confident with another person by your side.
It can be easy to retreat into your shell when you start college, but that only leaves you feeling lonely. One of the best parts of college is the friends and connections you can make. Who knows, you might meet your future best friends or even your future spouse! But that can't happen if you don't put yourself out there in the first place.
Try to Create a Routine
For many students, this is their first time living away from home. Without your parents there, it can be easy to stay up late and wake up later. Look, you may be an adult, but that means that you are going to have to parent yourself a little bit.
Take a look at your class schedule and try to build a routine around it. Decide when you want to wake up, get ready, and eat before class. Try to also decide on a good time to squeeze in some exercise and study sessions.
One thing that you should never skip is sleep. You should prioritize getting at least 7 hours of sleep a night. If that means you need to avoid taking an 8 a.m. class, then so be it. The schedule that works best for you may look unique, but if it works for you that is all that matters.
Get a Calendar
In college, you may not get as much homework. That means that due dates matter! Most professors won't accept late assignments, so make sure you turn in everything on time.
You might think you'll remember all the due dates, but realistically, no one does. Life always gets in the way! Especially once you get into the groove of the semester, you'll be juggling many different obligations. Save yourself from any zeros in the gradebook, write down all your due dates ahead of time in a planner or calendar.
Better yet, using your phone's calendar app can save you money on a planner. It's also easy to use, customizable, and always on hand!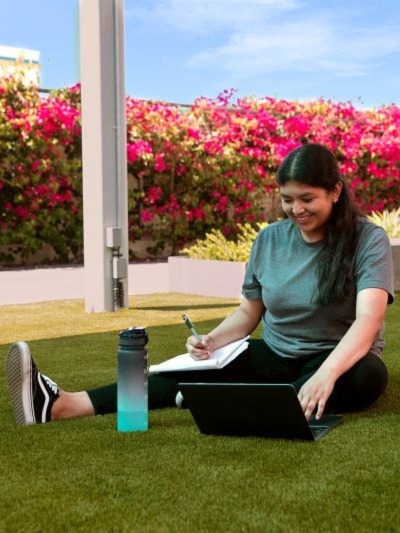 There is so much to do and see during your first week on campus. Don't let yourself miss out on all the fun! You can jump right into the festivities when you sign up with Collegeboxes.
We are the leading student moving, storage, and shipping service for a reason. With over 300 schools across the U.S. and Canada enjoying our storage services and thousands enjoying our shipping services, we can get you anywhere you need to go. All you need to do is sign up, pack up your items, and we'll handle the rest.
Why waste time doing all the heavy lifting? Get the party started early with Collegeboxes!