Harvard University is one of the most world-renowned schools. Harvard is "the oldest institution of higher education in the United States." The storied history of alumni includes Nobel Prizes and Pulitzers winners, CEOs of Fortune 500 companies, and Presidents of the United States.
Are you one of the thousands of students from across the globe shipping up to Boston? Are you asking yourself how to move to Harvard? Don't worry, you're not alone. Collegeboxes is here to help with your move to Harvard.
Harvard Moving Tips
Most incoming first-year students will move into their dorms during the last two weeks of August. The school provides a what to bring page, which includes most of your moving to college checklist. Your move-in day should be given to you depending on whether or not you participate in the school's Pre-Orientation Program. These programs allow students to connect with fellow students, who share similar interests and have mentors guide them through student life at Harvard. Those who do a Pre-Orientation Program will also get to move in before students who don't get involved in the programs.
On move-in day, expect to pick up your Harvard University card and room key. There will be campus tours available as well and plenty of activities to do with the family before you say goodbye for now. As for the moving part, there will be a schedule for when you can unload in front of the dorms and will be limited to 20 minutes to keep the flow of traffic. Advisors will be there to help and guide you to your dorms.
If that sounds complicated and rushed to you, there's another option. Collegeboxes, the No.1 student storage and shipping provider, serves over 350 schools including Harvard for college moving needs. Harvard students can Ship to School. This service is the most convenient way for students to move to school. Simply pack your belongings, ship them to us, and we'll deliver them to you when you get to school. With most of the student population of Harvard coming from out of state, the service is a great choice for those that live away from Massachusetts.
Ship to School is also available as a moving solution for international students, which make up over 10 percent of the population at Harvard. We offer international shipping via FedEx Economy Air for affordable rates. Our international shipping service also includes convenient at-your-doorstep pickup and shipping anywhere worldwide. We also provide all documentation required to send your packages abroad. When you choose Collegeboxes for your international shipping needs, you don't have to cross your fingers and hope you have provided all the necessary documentation. The shipping and logistics experts at Collegeboxes make sure all required documentation is included in each shipment. Fill out a quote form to get started.
If you needed any more reason to trust Collegeboxes, Dean of Students Katherine G. O'Dair advocated for students looking for storage solutions, another service offered by us.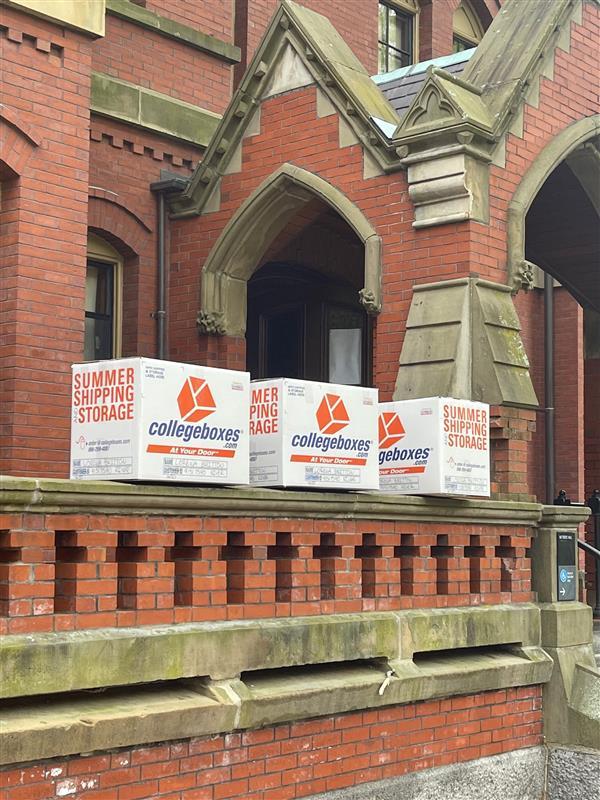 Harvard Moving Expenses
Buying tons of moving supplies can be chaotic and overwhelming. Another reason to use Collegeboxes is we can get you started with moving supplies. We offer our Collegeboxes Supply kit, which includes five double-walled boxes, a bonus box, a roll of U-Haul packaging tape, a permanent marker, five zip ties, and 10 FedEx label pouches for $39.99.
We also use fair pricing for both shipping and storage. All prices are on a per item basis. Our straightforward storage rates include pickup and delivery of your items and cover the entire summer break or academic term. Our low shipping rates are determined by the size and weight of your package, as well as the shipping distance.
If you're furthering your education at Harvard University, its business school, or its law school, Collegeboxes is the best choice for your college moving needs. Sign up today!