Collegeboxes knows a thing, or two about different universities. As the number one student storage and shipping provider, Collegeboxes wants to spotlight one of the 350-plus schools we serve each month.
Harvard University is our School of the Month for the month of April.
Where is Harvard University?
Located in Cambridge, Massachusetts, the private university is one of the most prestigious schools not only in the country but in the world. The city of Boston is within five miles of Cambridge and a 30-minute drive from Logan International Airport.
What is Harvard known for?
Established in 1636, Harvard is "the oldest institution of higher education in the United States". The rich history of alumni has won Nobel Prizes, Pulitzers, become CEOs of Fortune 500 companies, and even multiple Presidents of the United States.
Based on that it's important to note the wide range of majors offered at Harvard. Most students choose to focus their studies on social sciences, biological sciences, and humanities. This makes up over 50 percent of the field of concentration. A good portion also has an interest in engineering and computer science. Harvard also offers over 130 graduate degrees. Harvard also tries to focus on the students using a 7:1 student-to-faculty ratio with an average course size of 12.
The iconic campus in Cambridge is over 5,000 acres large. Equipped with 28 libraries including Harry Elkins Widener Memorial Library has 57 miles of shelves, it provides plenty of space for the Harvard student body. The 15 museums on campus vary from art and science to living collections like the Harvard Forest. Harvard competed in the first college athletic event back in 1852. The athletic department has grown to 42 varsity sports that compete at the Division I level in the Ivy League. The school also offers intramural and club sports, and a wide selection of recreational facilities on campus where you can practice, play and participate when it works for you.
It's also one of the diversified campuses around. From the school's admissions statistics, the class of 2025 is made up of 26 percent Asian Americans, 16 percent African Americans, and 12.5 percent Hispanic or Latino ethnicities. Students also come from everywhere to attend Harvard. According to College Factual, 82.9 percent come from out of state with a high percentage of students coming from California and Texas, and 11.6 percent being from out of the country.
We also know that you worked hard to get into Harvard. It is incredibly tough to become a student with a five percent acceptance rate. But if you are one of the hard-working individuals that gets that well-earned letter, your college moving experience can be made easy with Collegeboxes.
Harvard University Moving Options Through Collegeboxes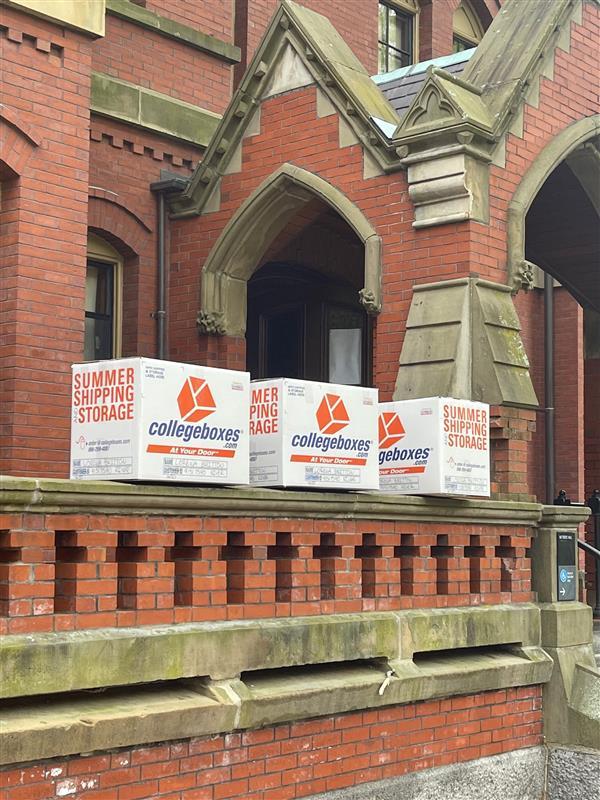 Collegeboxes is the #1 Student Storage and Shipping Provider, powered by U-Haul. Collegeboxes serves 350-plus schools including Harvard University as well as its Business and Law schools. Students can use services like Shipping and Storage. Your belongings are stored nearby at a clean, dry, and secure U-Haul storage facility that you can access at any time. Collegeboxes has also set up supports for Harvard students with the help of Dean of Students Katherine G. O'Dair for students looking for storage solutions.
As most Harvard students do, Collegeboxes also offers Ship to School and Direct Shipping services if you live away from Cambridge. Ship to School is the most convenient way for students to move to school. Simply pack your belongings, ship them to us, and we'll deliver them to you when you get to school. Direct Shipping lets the experts in moving college students provide an easy and affordable way to move to and from school! Our shipping process gets your stuff from point A to point B with no storage. You pack, FedEx picks up your boxes from your home or mailroom and ships to your destination.
We also offer moving supplies like our Collegeboxes Supply kit. It includes five double-walled boxes, a bonus box, a roll of U-Haul packaging tape, a permanent marker, five zip ties, and 10 FedEx label pouches.