You and your parents have done countless research into how much moving away to college costs to build the perfect budget. But what about the prices of a plane ticket or a rental car? During move-in and move-out week there are a few expenses that you don't think about initially. Collegeboxes is here to help you avoid those college moving expenses and ensure your plan doesn't get spoiled.
College Plane Ticket
According to a study from Statista, over 20 percent of first-year college students in the fall of 2016 went out of the state they lived in for college. So, how are you getting to your school? Maybe you're renting a moving truck or even taking a train, but there's a good chance you're flying.
Did you account for plane tickets in your budget? Plane tickets are expensive, especially if your parents are coming. Airlines.org said that the average base fare for round-trip airfare in 2021 was $291.67, multiply that by three people and you're about at $1,000. You'll have to consider bag fees as well. The number of bags you're bringing and their weight, because we know you're trying to fit your entire closet into your suitcase.
Book far in advance to save money. You know when your move-in day is and where you're going months before, make sure to get your flights when they're cheaper. If you and your family wait until the last minute, the prices will explode.
College Hotel for Parents
Your parents aren't going to drop you off and say goodbye in one day. They are going to want to spend time with you before they send you on your own. Whether it's your dorm room or apartment, there probably won't be room for them. Truthfully, you probably don't want them staying with you.
About every major university has a hotel or two around campus for move-in and move-out weeks or any visitors during the school year. Much like the plane tickets, you'll need to schedule the stay quite a bit in advance to save money. There are other kids moving in at the same time as you who are also bringing their parents. Simple supply and demand will determine the prices based on room availability.
While you might be excited to stay in your dorm room or apartment for the first time, you'll have the whole school year to do so. Why not enjoy a hotel stay with your parents for quality bonding time before they head back home?
H2: Car Rental for College Students and Parents
For many years, car rental companies were strict about the age requirement to rent a car. Most still charge a fee for being under 25 years old. However, many companies like Hertz and Enterprise have tried to change that. Both those companies and more have started to offer student discounts. Enterprise can even be found on college campuses. Their car share program at universities allows you to reserve a car near you by the hour or day.
Now your parents might want to rent a car during their stay too, taking the hassle away from the age restrictions. Depending on the school you're attending, your family might need to rent a vehicle to get there. Attending a school in the heart of New York City like Columbia University with public transportation isn't an issue. Getting to Oregon State University and Corvallis, Oregon isn't as simple.
Either way, renting a car is another cost you might not think about when moving to college. Hopefully, we did you a favor and are looking into it now.
College Moving Checklist Final Items
You completed your moving to college checklist before you got to school, right? Don't worry, we weren't expecting you to. There were certain items you needed to bring, buy, or leave at home. Once you're at school, there are things to buy for your new living space.
It's easy to forget about these items after spending days packing. But you're going to want that mini fridge you planned for. If you're renting a car, make sure it fits all the stuff you brought and plan on buying. If you're renting an apartment that isn't furnished, bringing furniture might also be on your checklist. Renting a pickup truck or cargo van might be a good idea for you.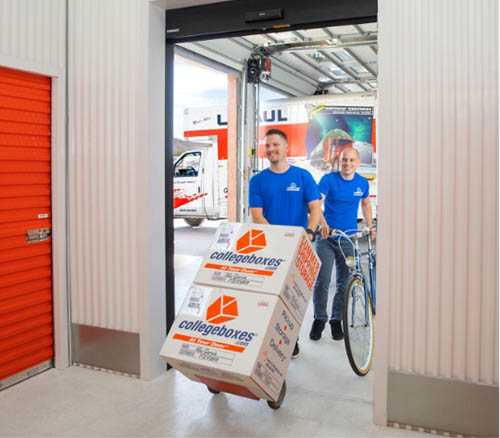 Student Storage and Shipping
Your true college moving expenses shouldn't be a surprise to you. When it comes to student storage and shipping the best choice is Collegeboxes. We are the No.1 choice for student storage and shipping. Instead of you worrying about the weight of your bags while traveling in the air or finding a rental car with enough space, let us get your stuff to college for you.
Serving over 350 schools, we offer services such as Storage and Shipping, Ship to School, Direct Shipping and more. We keep our pricing with you in mind. Whether you're storing or shipping, all prices are on a per item basis. Our straightforward storage rates include pickup and delivery of your items and cover the entire summer break or academic term. Our low shipping rates are determined by the size and weight of your package, as well as the shipping distance. What are you waiting for, sign up today!