First of all, what is a brand ambassador? Why do they matter? And, what's in it for you?  As family and friends continue to lean on each other for recommendations on products and services, many are turning to various social media platforms. In the current digital age, almost everyone has shared something they've learned and benefited from with their friends and connections so they could also benefit.  Becoming a brand ambassador means that you are part of the team and that when you share information, discounts, and promotions with friends, they not only benefit but so do you!
Let's cover the basics. 
What is a brand ambassador?
A brand ambassador is someone who represents a brand and its products/services through their network of followers on various social media platforms by increasing brand awareness and driving sales.
What do brand ambassadors do?
Brand ambassadors show their passion for the product or service they are promoting by creating content. Student brand ambassadors will work with the Collegeboxes team to promote Collegeboxes on campus and on social media.  For example, you're moving in/out of college & you're going to document the move. This can include showing your empty dorm and "branded boxes" and of course your friends or parents helping you move, the infamous "dad" loading up the trunk of the car, or U-Haul. 
What are we looking for?
We are looking for college students, college parents, and incoming freshmen, to be the voice and heart of our brand and to represent our company's mission, "To make college move-in/out seamless and stress-free for students and their families by providing cost-effective solutions."
Ideal Ambassadors are often:
High energy
Trendsetters
Passionate
Tech-savvy
Bloggers
Ideal Ambassadors have:
High engagement with their content
Connections online and offline
Followers and connections on social media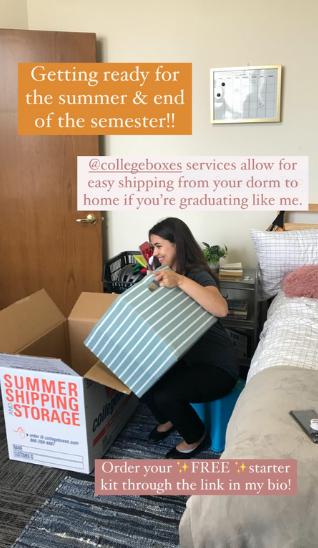 Why choose Collegeboxes?
Great question! We continue to be the #1 student storage and shipping provider in the US and Canada. Our brand is modern, up-to-date, young, fresh, smart, and refined.  Collegeboxes has been providing services to students for over 20 years. Collegeboxes is backed by a company that families know and trust, U-Haul.
"I love working with this company. This is perfect for college students returning home for the summer and don't want to lug all their belongings back and forth for the summer." Dallas W.
What's in it for you?
Opportunity to earn performance-based rewards throughout the program. Each brand ambassador will receive a discount code to share with friends and family to help generate additional referrals. Once accepted, you will earn rewards on completed services as well as entry into ambassador-only giveaways and a chance to earn free storage for up to 5 Collegeboxes.
Will you get compensated?
Absolutely! This is an opportunity to earn performance-based incentives throughout the program.
How to sign up?
We are partnering with Social Ladder to manage our brand ambassadors' tasks and compensation. Social Ladder works with large brands including Live Nation, Kendra Scott, Graduate Hotels, Benefit Cosmetics, and Vita Coco.  Through our partnership, you will be set up for success by having access to various challenges, admin chat, and rewards, all on the mobile app!
How it Works
1. JOIN THE AMBASSADOR PROGRAM
2. Download the Social Ladder App
3. Link your social media accounts
4. Earn points by completing challenges
5. Redeem points for rewards
What can I get with my points?
Here is a snapshot of the rewards currently being offered.
Rewards are updated weekly so keep your notifications turned on!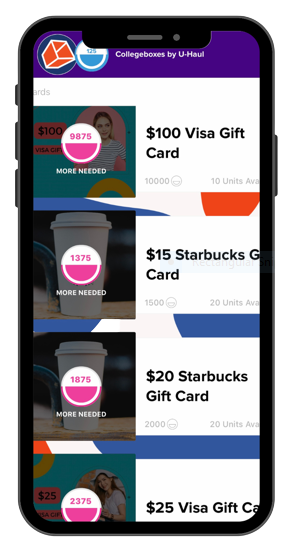 Remember you are the face and voice of the company and an extension of the team. We want you to make something that you love! The content you create should represent you and send a message to students who need service. We are excited to have you on the team!
If you have additional questions email us at ambassador@collegeboxes.com or text 781-428-4262.