Collegeboxes knows a thing or two about different universities. As the number one student storage and shipping provider, Collegeboxes wants to spotlight one of the 350-plus schools we serve each month.
Reed College is our School of the Month for the month of June.
Where is Reed College?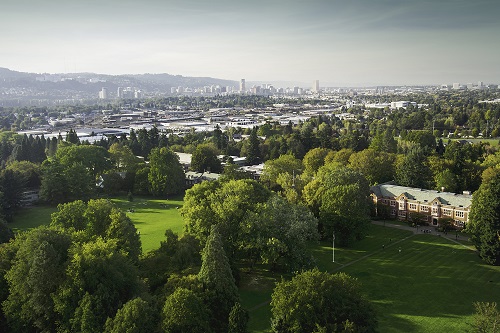 The private liberal arts college founded in 1908 is in Portland, Oregon. The city offers students a variety of activities, especially those that enjoy the outdoors and expressing themselves. Portland is a great place to attend a concert, a farmer's market, or find that cute local coffee shop, brewery, or restaurant.
Across the city, you'll find people who showcase their creativity through art, music, film, or anything else you could possibly think of. You might never know what you'll see while you're there. Nevertheless, as one of the greenest cities in the country, Portland is a city for walkers and bikers to take in all the city sights and entertainment.
What is Reed College known for?
Reed College holds its students to a high standard in academics, creative thinking and engaged citizenship. In the moment, the course load may seem tough, but it's worth it. Just look at Reed College's notable alumni and the different paths of success they've taken. Barbara Ehrenreich is a bestselling author. Pamela Ronald developed a strain of flood-tolerant rice and has research in infectious disease biology and environmental stress tolerance. Attorney William Hohengarten made the arguments that persuaded the U.S. Supreme Court to strike down Texas laws against sodomy.
While he never graduated from Reed College, Steve Jobs' short time at the school helped influence him. The co-founder of Apple mentioned later in his life that a calligraphy course helped shape the Apple Macintosh.
"I learned about serif and san serif typefaces, about varying the amount of space between different letter combinations, about what makes great typography great," Jobs said in an interview. "It was beautiful, historical, artistically subtle in a way that science can't capture, and I found it fascinating. None of this had even a hope of any practical application in my life. But 10 years later, when we were designing the first Macintosh computer, it all came back to me. And we designed it all into the Mac."
Reed College also makes it a focal point to give students the attention they deserve. The 9-for-1 student-to-faculty ratio allows faculty members to truly mentor students and engage with them in individual discussions. The school sets up its programs a bit differently having first-year students take a yearlong humanities course, broad distribution requirements, and provide a senior thesis at the end.
The tuition of Reed College might scare people away as the cost of attendance for the 2021-2022 year was $78,370. However, per the Princeton Review¸ Reed College was ranked as one of the top 10 best schools for great financial aid. In 2021-22, the average financial aid package was $52,264 and the average Reed College grant awarded was $46,618. At Reed College, you'll get some of the best schooling and for an affordable price.
Reed College shipping and summer storage options through Collegeboxes
Collegeboxes is the #1 Student Storage and Shipping Provider, powered by U-Haul. Collegeboxes serves 350-plus schools including Reed College. Students can use services like Shipping and Storage, where your belongings are stored nearby at a clean, dry, and secure U-Haul storage facility that you can access at any time.
If you are a Reed College student that lives away from the Portland area, Collegeboxes also offers Ship to School and Direct Shipping services. Ship to School is the most convenient way for students to move to school. Simply pack your belongings, ship them to us, and we'll deliver them to you when you get to school. Direct Shipping lets the experts in moving college students provide an easy and affordable way to move to and from school! Our shipping process gets your stuff from point A to point B with no storage. You pack, FedEx picks up your boxes from your home or mailroom and ships to your destination.
We also offer moving supplies like our Collegeboxes Supply kit which includes five double-walled boxes, a bonus box, a roll of U-Haul packaging tape, a permanent marker, five zip ties, and 10 FedEx label pouches.
If you're a present or future Reed College student and want the easiest college moving process, sign up today at collegeboxes.com.