When Collegeboxes started designing its signature box, we wanted it to be the best for shipping and storage. As the No. 1 student storage and shipping provider, we wanted a box that would enhance your college moving experience to the fullest. That's why we decided to make our signature box more durable than standard moving or shipping boxes.  
What is a Double-Wall Box?
A double-wall corrugated cardboard box is a box that uses two layers of corrugated cardboard. Corrugated cardboard is durable, lightweight, and environmentally friendly. What makes corrugated cardboard different is that it's made of three layers of paper. There's an interior liner, an external liner, and the ruffled, fluted material sandwiched between those liners. The second layer creates added protection from outside elements such as things that could dent or puncture your box.
Whether it's your favorite outfit or irreplaceable décor items, we want them to be with you at college in perfect condition. Moving to college can create anxiety, but we want your moving experience to be stress-free and our double-walled boxes will help your belongings arrive safely to their destination.
Double Walled Boxes for Shipping and Storage
The Signature Collegeboxes®Box is the perfect choice for shipping and storage needs. The box has 24" x 16" x 18" dimensions and the ability to hold up to 106 lbs. How much can you fit in one Collegeboxes box, you ask? You can fit a good portion of your clothes as well as textbooks, dishes, bedding, and more.
Single-walled boxes are very common and when people see that they can be cheaper than certain double-walled boxes, they decide to go with that option. But you typically get what you pay for. One of the most gut-wrenching feelings is waiting for an item you bought online and to have the box arrive crushed, not knowing if your order survived the impact or not. That's why it's so important that the Signature Collegeboxes Box is double-walled, puncture-resistant, and has an edge crush test (ECT) rating of 51, which for comparison, the standard box has a 32 ECT.
Double-walled corrugated boxes are more durable than single-walled boxes in the long term as well. The twin layers of corrugated cardboard also degrade slower than a single-walled box. The durability of the double-walled box means it can be used multiple times. Students have used their boxes for their entire college experience across four years, the boxes are that durable. That makes double-walled boxes like the Signature Collegeboxes box are a perfect pairing with a storage unit as well.
The box is built to withstand any condition, but when you use our Storage and Shipping service, they'll be in a great place. We store your belongings at a clean, dry, and secure U-Haul storage facility that you can access at any time. Because Collegeboxes is a division of U-Haul, students benefit from U-Haul's network of more than 1,500 storage facilities across the United States. This allows us to store your belongings in a storage facility that is close to your school while utilizing U-Haul's industry-leading storage features and advantages.
A double-walled corrugated box is certainly worth your money. But price shouldn't be a worry when using our Signature Collegeboxes Box, especially if you get a Collegeboxes Supply Kit. In your kit, you'll get five double-walled boxes and these additional items:
1 bonus box (36″x24″x7 3.5 cu ft)
1 permanent marker
1 roll of U-Haul packaging tape
10 FedEx label pouches
5 zip ties
2 Collegeboxes luggage tags
With our services like Direct Shipping and Ship to School, all you have to do is pack your double-walled boxes and we'll do the rest. FedEx will pick up the packages from your porch, then they'll deliver them to the directly to the desired destination or we'll deliver them to your school. We serve over 350 schools around the nation, see if Collegeboxes and its dorm room movers partner with your school and sign up today!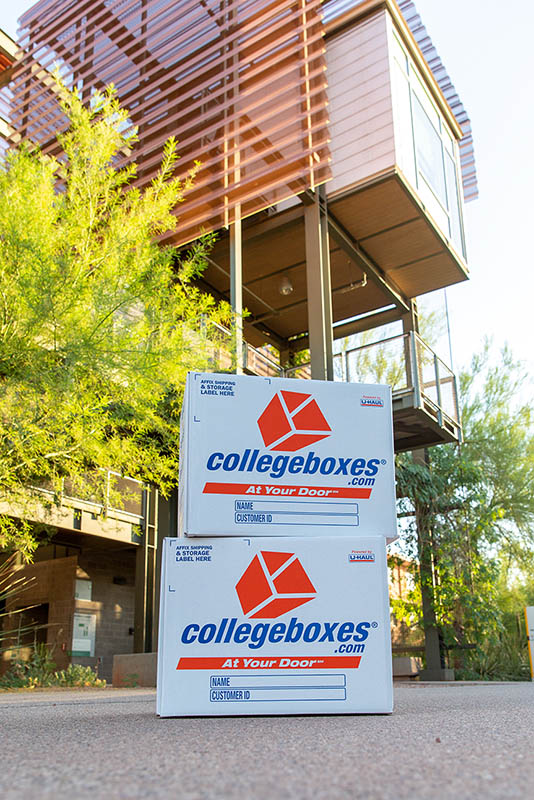 Related Articles:
How Much Does Moving Away to College Cost?
A Parent's Guide to College Moving