At Collegeboxes, we revolutionized the way students move at school. With our summer storage service, you can forget about having to haul everything back to your parents' house! Instead, we can keep it at a U-Haul center near campus. We deliver items back to you when you return to school, no labor and no hassle. And if you're moving to a new school, you can ship and have items delivered directly to your dorm room on the day you arrive. The only thing you need to do is pack everything up, it doesn't get much easier than that!
One challenge that we all encounter is trying to unpack and organize everything. Trying to sort through boxes can be tiring and time-consuming, that's for sure. But what if we told you there was an easier way to keep track of all of your stuff? It's not too good to be true!
Please give a warm welcome to the My Belongings Organizer—only in the U-Haul app!
What is the My Belongings Organizer?
The My Belongings Organizer is a new box management system that is designed to save you time and effort. Forget about trying to remember where everything is or labeling boxes by hand. With the My Belongings Organizer, you can just snap a picture of the box and take inventory of what's inside.
How Do I Use It?
The first step is to download the free U-Haul App. Once it's downloaded onto your phone, go ahead and open it up. You don't even need to make a U-Haul account; you can just jump right in. It really doesn't get easier than that!
To access the organizer, tap the "Tools" icon at the bottom of the screen. Then, select "My Belongings Organizer" to get started.
Creating Boxes and Adding Items
Now we're ready to rock and roll! Here's a step-by-step guide on how to create boxes and add items to your organizer:
Click the '+' button on the bottom right corner of the screen
Label the box and assign it a 'Name'
Record the location of the box (in your car, storage unit, etc.)
Take a picture of the box to help you identify it later
Click "Is this a container?" to indicate if there are items inside the box, suitcase, or plastic tote
Add a quick description of what's in the container (you can also add pictures)
Click 'Save' at the tip right corner
Click the "+" to start again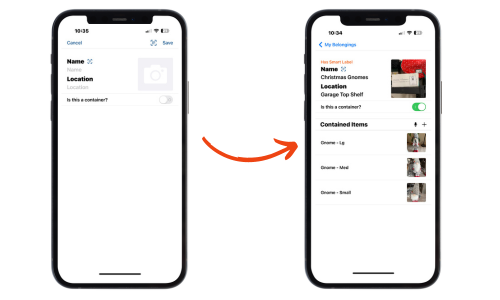 All of this information is stored locally on your device. This means you can access it at any time, even without Wi-Fi. It also gives you added privacy. U-Haul and Collegeboxes will never be able to see the contents of your My Belongings Organizer.
How to Search for Items
Take the stress out of unpacking by using our Search tool!
Click the magnifying glass icon at the top right-hand corner of the screen
Enter any keywords into the search bar
Scroll through the options to find your desired item
This way, you can store items between different locations and still know where everything is!
How to Edit and Manage Your Items
With the 'Edit' button in the upper right corner, you can make any changes you'd like. You can remove boxes, edit the descriptions, and even update the pictures! The best way to keep everything nice and organized is by updating your app regularly with any changes.
You Can Organize Anything!
You can record more than just boxes in the My Belonging Organizer. In fact, the options are basically endless. You can even add things like your television, computer monitor, or mini fridge.
You can even use non-traditional containers! If you're the type that likes to shove everything into a trash bag, you can still record it in the My Belongings Organizer. In fact, it'll probably make your life much easier! No matter how you pack, our organizer can help you keep everything in order.
How Does This Help College Students?
College is chaotic, to say the least. Over the course of four years, you'll be bouncing around between dorms, apartments, and even your parents' house. But with the My Belongings Organizer, you'll always know exactly where your stuff is in just a few clicks! This can help with:
Summer Storage: As we mentioned before, the organizer comes in handy when you choose to store your belongings over the summer. Instead of trying to remember what's hiding in every box, the My Belongings Organizer can help you see the contents of every container. You can even record where it's located within the unit!
Dorm Organization: If you're trying to keep a tidy living space, the My Belongings Organizer can help! You can record the contents of your dressers, drawers, and even your bathroom cabinets. That way you'll never have to go scavenger hunting around your dorm looking for something.
Unpacking: Trying to find a place for everything can seem stressful at first, but with the My Belongings Organizer it has never been easier. No more guessing games, you'll know exactly where something is in seconds.
At Collegeboxes, we're committed to making moving easier for students and their families. With the U-Haul App you can make reservations, check past orders, and even keep track of your belongings. Everything you'll need is all in one place.
So, what are you waiting for? Download the U-Haul App today!