Moving to and from college is an exciting time for students and their families, but it also comes with challenges, especially if you live out of state.  How do students get my belongings to school?  And what should they do with their belongings over summer break?   Collegeboxes by U-Haul provides solutions to meet these challenges.  With 20 U-Haul locations in the Tampa area, storage, shipping, moving labor, and packing supplies are always within easy reach. 
Collegeboxes offers a full range of services at the University of Tampa and the University of South Florida.  These services include storage over breaks, shipping home and back to school, and even shipping or storing items when studying abroad.  Each service is designed to get students to and from school cost-effectively and with ease. 
Student Summer Storage in Tampa
At the end of the semester, Collegeboxes will pick up and store locally in Tampa the items students won't need over the summer.  These items include bedding, extra clothing, appliances, and dorm decorations.  Collegeboxes picks items up directly from the student's room and places them in storage to keep belongings safe and sound until the student returns to campus.   If students have some items that they want to bring home and prefer not to lug them on a plane and pay baggage fees, Collegeboxes can ship luggage, bags, and boxes home at a discounted shipping rate.
Moving to Tampa for College
For students moving to Tampa for college, the Ship to School service provides a substitute for packing the car and driving to school only to run into traffic, elevator wait times, or even no elevator at all. Students simply ship their belongings to us, we store them temporarily, and we deliver them right to the dorm room when they arrive on campus, allowing students and their families to focus on more enjoyable school experiences.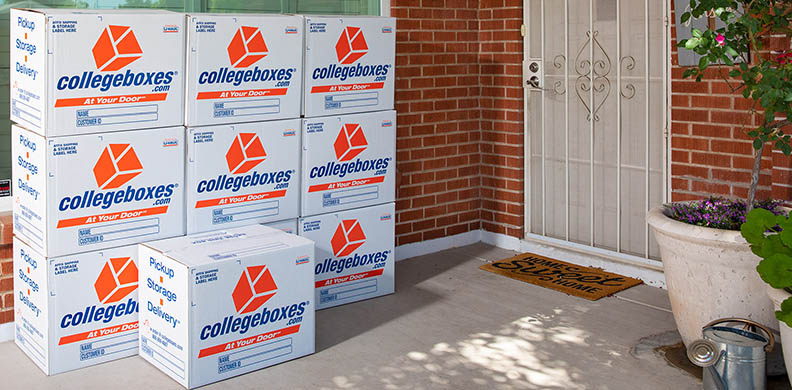 To ensure the college moving experience is stress-free, consider Collegeboxes and the benefits of the #1 provider of student storage and shipping. 
Collegeboxes stores UT and USF student belongings at the following local U-Haul location:
U-Haul Moving & Storage of Tampa
2309 Angel Olivia Senor St, Tampa, FL 33605