College Move-Out Made Easier

Search for Your School to Sign Up Today!
The end of spring semester is an exciting time of year. But before you can start your summer vacation, you need to tackle college move-out day. Collegeboxes is here to help. Our summer move-out services are designed to make the process as simple as possible so you can focus on more important things, like studying for finals.
College Move-Out Services From Collegeboxes
Our student storage and shipping services are guaranteed to provide you with what you need, whether you're a freshman finishing your first year, or a senior getting ready to move back home.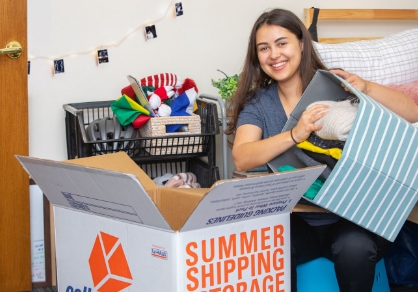 Student Storage Over Summer
Student storage is ideal for students returning to school the following year. We pick up directly from your dorm room, store for the summer, then deliver everything to you when you arrive back at school.
In addition to storage, if you need some of your items shipped, we'll pick them up from your dorm room and ship them anywhere.
College Move-Out Checklist
Gather Packing Supplies
You won't get far without boxes, packing tape, and other packing supplies.
Review Move Out Procedures
Review the move-out policy and guidelines provided by your college or university, and make sure you understand them. You may need to attend move-out meetings, return certain items, or complete other tasks.
Do a Quick Clean
Clean your dorm room thoroughly before leaving. This includes dusting, vacuuming, wiping surfaces, and taking out the trash. Make sure everything is in order, and you haven't left any personal items behind.
Return School-Owned Items
Take inventory of all the school property in your room, such as furniture, electronics, keys, and other school-owned items. Return all school-owned items, such as keys, textbooks, library books, and other materials.
Pack Up Your Things
Create a plan for packing and start early to avoid last-minute stress. Make a list of all the items you have, and categorize them into things you will need to bring with you, those to dispose of, donate, or sell.
Do a Final Sweep
Check your mailbox and clear out any mail that may have been sent to you. Double-check your room to ensure that you have packed all your belongings, and there are no forgotten items. Finally, say goodbye to your dorm room!
Where are my belongings stored?
Your items are stored at a clean, dry, and secure U-Haul storage facility found near your campus. You always have access to your belongings.
What does Collegeboxes pick up/store?
Just about everything, including mattresses, bicycles, mini fridges, and other common dorm room items. If our college movers can pick it up, we can store it.
What if I don't need storage?
Check out our Direct Shipping service, which offers discounted shipping rates through FedEx. Ship your items straight home, or anywhere you need them without storage.
Does Collegeboxes help me pack?
You handle packing your belongings. However, we'll handle the rest. That includes pick up, drop off, and storage of your items.
What won't Collegeboxes pick up/store?
Combustible items, toxic materials, perishables, live plants, weapons, or wet items.