Bringing your car to college can be a costly and troublesome endeavor. Not only do you have to shell out money for a parking pass on campus, but you also need an additional pass to secure a parking spot at your dorm or apartment complex. Walking may seem like a practical alternative, until you find yourself running late for a crucial exam or caught in a severe snowstorm or downpour.
But fear not, because there is a solution that checks all the boxes – a bike! Opting for a bike brings forth a plethora of advantages. And the best part? You don't even have to worry about transporting your bike to college, as Collegeboxes – the #1 student storage and shipping provider – can take care of that for you.
Still not convinced? Here are five compelling reasons for college students to bring a bike to campus. 
Best Reasons for College Students to Have a Bike
1. Saves You Money
As we mentioned earlier, having a car while in school can significantly contribute to the ever-growing expenses of pursuing higher education. This is where bikes come in handy, as they help keep living costs down. Gas prices are always fluctuating, and driving around a college town doesn't always offer the best fuel efficiency. You'll probably find yourself needing to fill up more often than you expect. So, if you're only traveling short distances, why not opt for a bike instead?
Sure, bikes require some maintenance, but it's nowhere near as costly as what a car demands. Just think about all the extra money you could save. Instead of spending it on weekly gas expenses, you could use it on groceries. Those expensive parking passes could be transformed into a chunk of your student loans paid off. It's crucial to consider your wallet when deciding to invest in a bike.
2. Makes Parking Easier
Securing one of those expensive parking passes often involves waiting online to see if you can even buy one. However, trying to find an actual parking spot on campus can be even more challenging. Even with a pass, it's not like you get a designated spot; it's more like a general admission to a specific lot. And to top it off, there's no guarantee that the lot will be anywhere near your classes.
On the other hand, when you opt for a bike, you'll find bike racks scattered all over the college campus. All you need is a reliable bike lock to park it and keep it safe. It's such a relief to head to class every day without the added stress of hunting for a parking spot for your car.
3. You'll Never Be Late Again
If you're someone who loves to sleep in, especially now that your mom isn't around to drag you out of bed, getting to class on time can be a real struggle. College campuses are huge, and even if you live on campus, sprinting to your important exam just two minutes before it starts is far from ideal.
And let's not forget the pain of driving to campus and hunting for a parking spot. It's a total time-suck that can easily make you late for class. A bike gives you the best of both worlds in quick, but easy transportation.
Almost every college campus out there has awesome bike paths and lanes that let you zip through crowds in no time. Even if you're coming from off-campus, there are usually ways to pedal your way to the right building. The town or city surrounding your college is often designed with pedestrians in mind, so you can forget about dealing with traffic, parking nightmares, and all that unnecessary hassle. Just hop on your trusty bike and cruise your way to class on time.
4. Good for the Earth
Today's college students are all about shaping a better future. And guess what? You can be a part of this movement too, simply by hopping on a bike. In most college towns, traffic congestion is a major issue, with cars idling on the roads and wreaking havoc on the environment. According to the Adventure Cycling Association, the United States is projected to see a whopping 35 percent increase in annual greenhouse gas emissions between 2005 and 2030. That's a jump from 7.2 to 9.7 billion tons of CO2 equivalent!
Collegeboxes offers more sustainable options for your campus move by using eco-friendly moving supplies.

Our Summer Storage, Ship to School, or Direct Shipping services eliminate the need for cars and moving trucks on campus.
5. Great for the Body and Mind
Bikes are awesome for getting exercise, which is good news, because it's not always easy to stay in shape during college. Bikes are a top-notch cardio exercise that helps improve your breathing and heart rate, boosts your immune system, and strengthens your muscles. Plus, they even sharpen your brain! Riding a bike can take your mind off all that academic stress and anxiety. And hey, why not lighten your load by using a basket on your bike to carry those heavy textbooks?
Biking is also a super easy way to hang out with your friends. Imagine cruising with a group to your favorite pizza joint after a long day of studying. Or how about exploring your town together, discovering cool hidden gems you've never been to before?
So, why wait? Take a leisurely stroll, grab a bike, and fulfill all your storage and shipping needs with Collegeboxes today!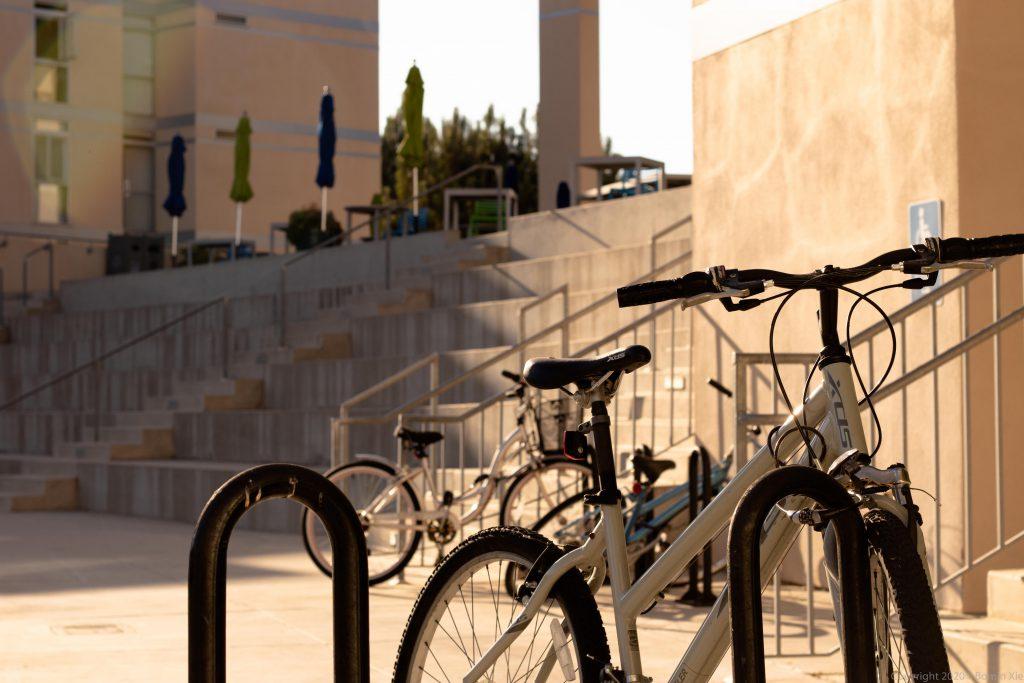 Get Pedaling With Collegeboxes
Collegeboxes, the #1 student storage and shipping provider powered by U-Haul, not only stores and ships bikes for college students. We also offer new bikes for purchase!
Our bikes are assembled by professional U-Haul hitch installers. When you sign up, your new bike will be part of our At Your Door Delivery service for your purchase. There's no need to bring them home with you either as they can be disassembled, boxed, and included with your off-campus shipment or securely stored over summer break.
Sound good? Sign up for Collegeboxes today!