Taking your car to college can be expensive and a hassle. Not only do you have to pay for a parking pass on campus, but to safely park your car at your dorm or apartment complex you'll also need to purchase a pass. Walking sounds fun, until you're late for your big exam or have to endure the outdoor elements.
All that makes a bike sound like a perfect option for college…because it is. Using a bike comes with many benefits. And technically you don't have to bring your bike with you. Collegeboxes can handle your bike transporting needs.
The #1 student storage and shipping provider powered by U-Haul not only stores and direct ships bikes for college students but has also started offering new bikes for purchase.  Our bikes will be completely assembled by professional U-Haul hitch installers and ready to use. Your bike will be a part of our At Your Door Delivery service for your purchase. There's no need to bring them home with you either as they can be disassembled, boxed, and included with your off-campus shipment or securely stored over summer break. But first, you need a bike, and we'll tell you why you need one.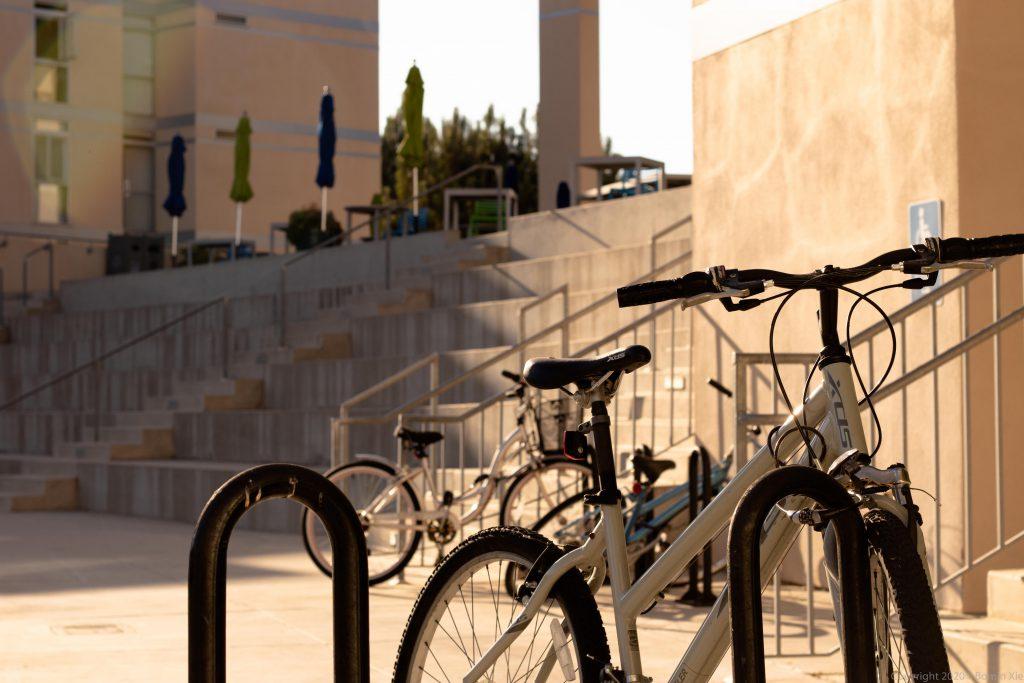 Best Reasons for College Students to Have a Bike
1. A bike is a money saver
As we mentioned before, having a car at school can add to the ever-growing tab in furthering your education. Finding ways to save money is almost like an additional class for college students. Bikes certainly help keep living costs down. Gas prices always go up and down but driving around in a college town doesn't always provide the best fuel efficiency. It's likely you'll need to fill up more than you think. If you're only going a short distance, you might as well have a bike.
Bikes do need maintenance, but it won't be near the cost of what is needed for a car. Think about what all that extra money could be used for. Instead of weekly gas money, it's your weekly grocery budget. Expensive parking passes turned into a chunk of your student loans paid off. It's important to factor in your wallet when making an investment in a bike.
2. Parking is less stressful
Securing one of those high-dollar parking passes usually includes a process of waiting online to see if you can even buy one. But trying to get an actual parking spot on campus can be even harder. Despite having a pass, generally, it's not a specific spot and more like general admission in a certain lot. Nevertheless, it's far from easy to make sure you have a spot to make it to class.
With a bike, there are bike racks everywhere in college and all you need is a good bike lock to park them. There's a lot more peace of mind heading to class every day knowing you don't have to take on the added stress of finding a parking spot for your car.
3. Never be late to class again
If you're a late riser, especially now that mom isn't there to wake you up, getting to class on time is a challenge. College campuses are large and even when you live on campus, running to your big exam two minutes before it starts isn't ideal. As we spoke about before, driving and finding a parking spot is also time-consuming and can make you late to class. A bike gives you the best of both worlds in quick, but easy transportation.
Essentially every college campus has bike paths and lanes making for fast travel through crowds. Even when coming from off-campus there are ways to reach the building you need because the town or city is built for pedestrians. Skip the traffic, skip parking, skip the hassle, and use your bike to make it to class on time.
4. It's environmentally friendly
College students of today seemed to be focused on bettering the tomorrow. Join in on the movement with a bike. Most college towns experience traffic causing cars to idle on roads, which is bad for the environment. According to the Adventure Cycling Association, "annual emissions of greenhouse gases (GHG) in the U.S. are projected to increase by 35 percent between 2005 and 2030, from 7.2 to 9.7 billion tons CO2 equivalent, a standardized measure of GHG emissions. The greater the number of trips made by bicycle, the slower the rate of increase."
Collegeboxes also tries to offer more sustainable options for your campus move by using eco-friendly moving supplies and offering Summer Storage, Ship to School, or Direct Shipping to avoid driving and using fuel.
5. Great exercise and social activity
Bikes are great for your body. It's a great cardio exercise that helps improve breathing and heart rate, boost the immune system, and strengthen muscles. It also sharpens your brain. Riding a bike can take your mind off academic stress and anxiety. You can also take the strain of carrying your heavy textbooks off your back with a basket on your bike.
It's also an easy way to socialize with friends. Take a ride with a group to your favorite ice cream place after a long day of studying or adventure your town for new hole-in-the-wall spots you've never been before.
Take a stroll, grab a bike, and any other storage and shipping needs from Collegeboxes today!