Collegeboxes is the top student storage and shipping provider. While serving over 350-plus schools, we've learned a lot about different universities. This month, we're giving you five reasons to love the University of Miami. Hurricane students have plenty to love about their school and they show it each time they put up "The U" with their hands.
1. University of Miami Campus
The University of Miami has put forth an effort to make its campus modern and beautiful, which is easier being in Miami. The private school's main campus is 239 acres large and located in Coral Gables. Students like yourself will find the School of Architecture, College of Arts and Sciences, Miami Herbert Business School, School of Communication, School of Education and Human Development, College of Engineering, School of Law, Phillip and Patricia Frost School of Music, and School of Nursing and Health Studies.
Along with those schools on campus, Miami has incredible facilities to go with it. The Lowe Art Museum has the Palley Pavillion for Contemporary Glass and Studio Arts and is a great place to visit. There are new facilities too. The Lennar Foundation Medical Center, a 200,000-square-foot ambulatory medical facility, opened on the campus in 2016 and the University Village (the first housing project, which includes 800 student beds, in more than 35 years).
Students always enjoy the palms trees throughout campus and walking by Lake Osceola. Maybe you'll be lucky enough to find an open hammock too.
2. University of Miami Athletics
What's not to love when Sebastian the Ibis leads the Hurricanes through the smoke for a University of Miami football game? The Hurricane program is one of the most storied in college football, winning five national championships. It has produced some of the best players in history. Football is what most people associate the university with. Students have a great time throwing up the iconic "U" with their hands when the Hurricanes are winning.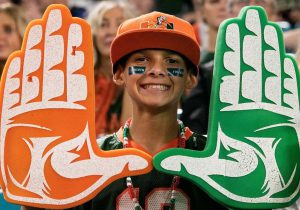 The university's baseball program has had major success as well. The Hurricanes baseball team has won four national championships and had players like Pat Burrell come represent the green and orange.
University of Miami was ranked 10th for best colleges for student athletes in America by niche.com.
3. University of Miami Research
The University of Miami is a private research college. Over 200 professionals oversee the Office of the Vice Provost for Research & Scholarship at the University of Miami. The university is engaged in $324 million in research and sponsored program expenditures annually. Most of this work ties into the state of the art The Lennar Foundation Medical Center and Miller School of Medicine.
Other areas include marine science, showing up on Shark Week, engineering, education, and psychology.
4. University of Miami Diversity
Unlike most well-known universities, the University of Miami doesn't have a huge student body like The Ohio State University does. However, that doesn't take away from the school's diversity. According to the school's admission office, the University of Miami's student body was 38.8% White, 25.2% Hispanic or Latino, 8.76% Black or African American, and 4.73% Asian in the 2020-2021 school year. By comparison, enrollment for all Doctoral Universities is 49.8% White, 15.1% Hispanic or Latino, and 9.74% Black or African American.
5. University of Miami Location
Imagine spending your teenage years and early 20s in Miami. There are countless things to do, fantastic weather, and you're able to immerse yourself in a cultured city. Another plus is the location of the main campus. Being in Coral Gables allows you to have the college town vibe while being less than 30 minutes from downtown Miami, South Beach, and other south Florida attractions.
Miami is a hotspot for festivals, concerts, big sporting events, and more. As mentioned before, the city is a melting pot of culture. People from Cuba, Haiti, Central and South America, and the Caribbean populate Miami. It makes for a variety of art, food, and music throughout the city to enjoy.
Need any more convincing as to why to love University of Miami? Didn't think so. If you're planning on going to Miami or are a current Hurricane, trust Collegeboxes, We are here to serve over 19,000 students at the University of Miami and provide the best Student Storage and Shipping experience.  Sign up today!