Moving can be hard, but the aftermath can be overwhelming, too. Once you get your last item put away, you're left with a mountain of boxes and nothing to do with them.
But what if we told you that those boxes can actually be upgraded into functional and fashionable décor? We have some quick and easy ideas to give your boxes some new life!
Why Should I Re-Use My Boxes?
Cardboard is an awesome material because it can be reused and recycled in many ways. In fact, cardboard is the second most recycled material in the United States! But why not get creative with it?
If you find yourself with some extra cardboard boxes, you can transform them into something completely new. From storage hacks to funky furniture, cardboard can be a valuable resource for plenty of DIY projects!
That's Where We Come In!
If you're moving with Collegeboxes, you may have heard about our Collegeboxes Supply Kit. It's the perfect kit for moving in and out of dorms! It comes with 5 of our Signature Boxes, a Supply Kit Box (perfect for pictures, monitors, etc.) a roll of tape, and even some shipping label pouches and a marker. While it's a great bundle to help you move, it is also the perfect candidate for some DIY projects once you're done.
What Makes the Collegeboxes Signature Box Special?
Not all boxes are created equal. In fact, some aren't very strong at all. But at Collegeboxes, we make sturdy, long-lasting boxes that can survive multiple moves. Our Signature Boxes are double walled, making them sturdier than your average piece of cardboard. These mighty boxes can hold up to 106 lbs. Now that's quality!
Better yet, they can fit plenty of items for your move. These boxes are 24" x 16" x 18" (length/width/height), making them ideal for hauling all your dorm room essentials. These aren't the type of boxes you throw away, they're boxes you'll want to use again and again!
Wondering what else you can do with our Signature Box? Here are some ideas to get you started:
Laundry Hamper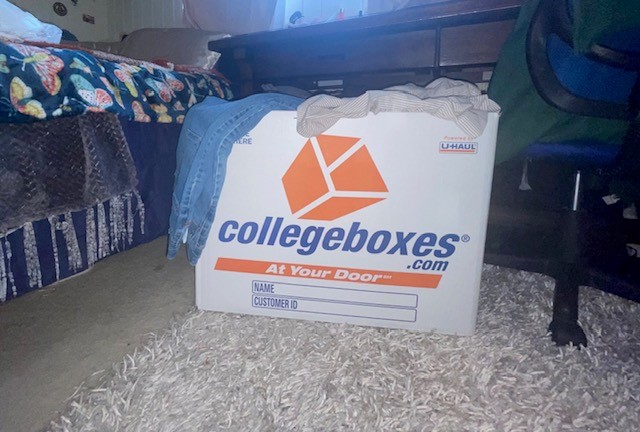 You'd be surprised how many clothes fit in this box! Almost two garbage bags worth of clothes can fit in one of our Signature Boxes. This makes it the perfect vessel for all your dirty clothes. It may not look like a traditional laundry hamper, but it holds just as much. And it only takes up a fraction of the space.
Storage Bins
Not willing to spend $20 on storage bins? You can transform your box into something cool with the supplies you have around your dorm. By using paint, markers, stickers, or even some loose fabric, you can make it more your style. Or you can always rock with the original sleek look of our Signature Box, the decision is up to you!
Drawer Divider DIY
Looking to organize your drawers without having to spend extra money? Then try using the flaps of your Signature Box!
Cut off two of the top flaps from your Collegeboxes Signature Box
Measure out the middle point of each box flap
Make a cut along the middle point (Don't cut it fully in half!)
Slide the two pieces together (The finished project should look like a cross)
Fit it into your drawer and adjust as needed
Funky Furniture
Because our Signature Box is made with double-walled cardboard, it's much stronger than your average box! With a little bit of creativity, you can even turn it into a cool end table.
The best part is that you can still store stuff inside of it. In fact, putting some things in there will help keep it from falling over. It's sneaky, fashionable storage!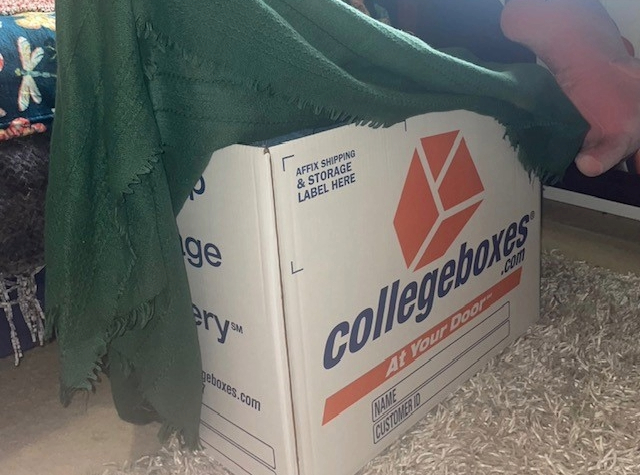 Collegeboxes Makes Moving Easier!
Our boxes aren't the only thing to rave about, we're also the number one dorm moving service in the U.S. and Canada! No matter if you're moving to school down the street or across the country, we can get your belongings where they need to go.
We offer flexible shipping and storage options for students and their families. Through our Ship to School service, we can even have your things delivered directly to your dorm room. So, no matter how you choose to move to school, Collegeboxes is here to help!