U-Box Containers are a portable moving and storage solution. U-Box containers are delivered to any of the authorized on-campus locations during move out, stored off campus, and then delivered back to campus for move-in. If your plans change over the summer we'll be happy continue to store your U-Box containers, deliver it off-campus, or have it shipped anywhere world-wide (additional storage and shipping fees apply)
1
---
Sign Up & We Drop-Off Your U-Box
2
---
You Load & Lock
3
---
We Pickup & Store
4
---
We Deliver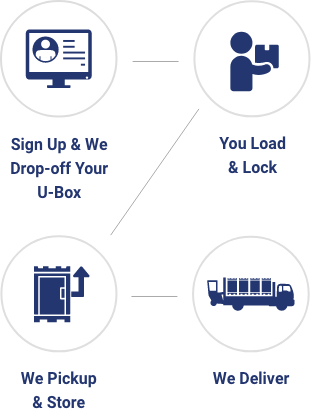 Pricing
$923.80 plus tax per container.
Price Includes:
Pickup from campus (June)
$1,000 coverage
Storage of the container
Delivery back to campus
A lock
A dozen storage pads
Optional Insurance Rates
| | | |
| --- | --- | --- |
| Coverage | Cost / month | Cost for Summer |
| $1,000 | $12/mo. | $36 |
| $5,000 | $18/mo. | $51 |
| $10,000 | $25/mo. | $75 |
| $15,000 | $32/mo. | $96 |
| $20,000 | $40/mo. | $120 |
How Do I Pack My U-Box Container(s)?
We recommend watching our quick, informative video on how to properly work with and load your U-Box container before starting. Then, be sure to follow the helpful tips below.
Packing Tips:
All avoid any empty space and stack items to the ceiling of the U-Box container. This will avoid load shift.
Secure all rows of furniture and boxes with tie downs and rope.
Fill empty spaces with sofa cushions, bagged pillows or U-Haul furniture pads.
Place the heaviest items on the floor and distribute weight as evenly as possible. Avoid putting the heaviest items to one side, and put extremely heavy items in the middle of the box.
Wrap all un-boxed items in furniture pads securely for padding protection.
Load no more than 2,000 lbs into each U-Box container.
Stand sofas and mattresses on end and disassemble bed frames to maximize space.
Wrap your items in U-Haul furniture pads.
Take advantage of tops of dressers to stack boxes and other items.
Keep furniture pads in between the dresser top and the items.