A Better Way to Move Your Student to School
Forget packing up the family car. See how Collegeboxes makes student moving easier on YOU.

Dropping your child off at college for the first time comes with mixed emotions. But there's no mixed feelings about moving their stuff. It's a headache, especially if they're going out-of-state. Collegeboxes has a solution. Instead of loading up the family car or paying costly airline fees to check luggage, pack light and enjoy your trip. We'll handle the heavy lifting and deliver right to their dorm.
1. Sign Up
Go to collegeboxes.com and sign up. It's FREE to create an account. Select your school and Ship to School to get started.
2. Pack Up
Pack items that you would like shipped and delivered directly to your dorm room and schedule your FedEx pickup in your Collegeboxes account. You can use supplies provided by Collegeboxes or your own – whichever works best for you!
3. We Handle the Rest!
FedEx picks up and ships items to the U-Haul facility near campus, where items are temporarily stored until you move-in. It's that easy to move to school when you work with Collegeboxes.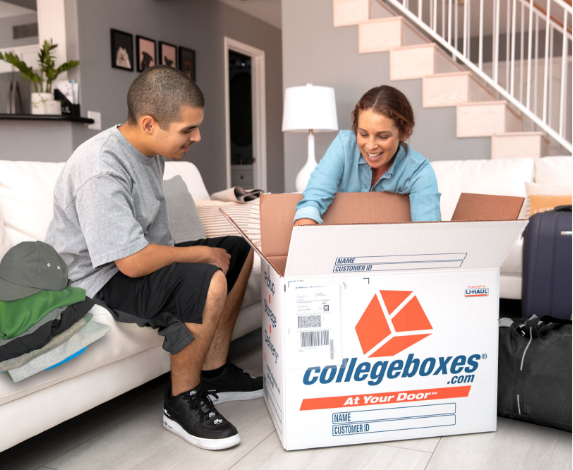 Search for Your School to Sign Up Today!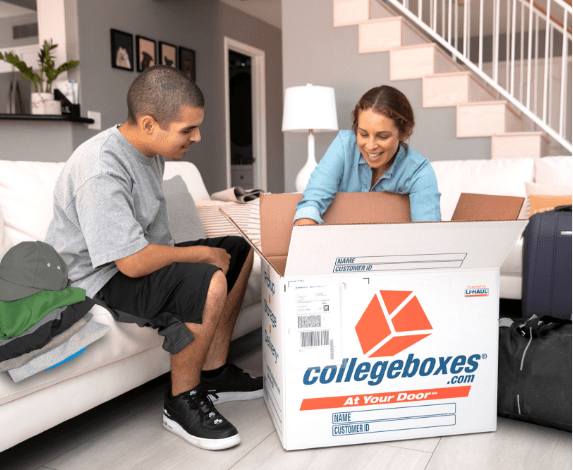 Collegeboxes offers the following moving solutions for college students:
Storage
Don't worry about renting a storage room. You pay by the item, which includes pickup and delivery. Items are stored locally at a safe & secure climate-controlled storage facility that you can access anytime.
Signature Supply Kit
Order the Collegeboxes Supply Kit from your customer account and have it shipped to the student. The Supply Kit contains 5 double wall boxes (24" x 16" x 18"), 10 label pouches, 5 zip ties, a roll of tape, and a marker.
Shipping
Print shipping labels and schedule pickup from your Collegeboxes account to enjoy discounted domestic and international shipping. We pick up from your doorstep and ship anywhere, worldwide.
Online Account Management
Manage the process of storing and shipping all in one place. Print labels, order supplies, view status updates and schedule pickup and delivery.